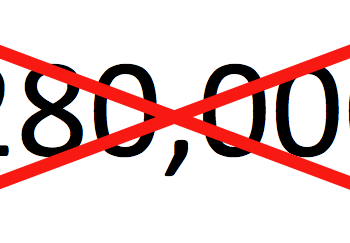 280,000 members of Toastmasters International, throughout 116 countries are learning or are already skilled in one of the most effective and transferrable Toastmasters skills.  This is skill that I believe is the rock on which Toastmasters International's success is built.  No – it is not public speaking.
I have been a member of Toastmasters International since 1997.  Like so many, I joined to overcome "the nerves."  I have largely beaten "the nerves", but I have also benefited in a great many other ways.
The benefits to me are by default benefits to people and organisations outside of Toastmasters.  This is because I have increased my skill levels across the communication and leadership skills focused on by Toastmasters and have been able to employ them to the benefit of others outside the organisation.
Possibly the most beneficial skill we can use outside of Toastmasters is the skill of EVALUATION.  Let me explain why.
Evaluation is the means by which Toastmasters members provide opinions and thoughts to assist their fellow members in every aspect of their communication and leadership skills.  Every presentation at a Toastmasters International club meeting is evaluated by another Toastmaster.  One evaluation does not make a competent communicator or leader.  But over many speeches and assignments the cumulative effect of these evaluations is very noticeable – profound in most cases.  And the Toastmasters formula for effective evaluation is an outstanding tool that can be used in management and leadership situations and many others.
Consider this for an example:  I was leading two teams in each of two offices for a large service company when we hired a new team member.  Let's call him Alan.
Alan came with an impeccable history and track record with respected and successful multinationals.  He had held country and regional roles and had significantly more large corporate experience than I had – or still have!  I was Alan's new boss.
Alan was like a sponge for knowledge of his new industry.  He quickly learned the processes and was rapidly building a profile and earning respect from our clients.  Alan leapt at every opportunity to develop his own market in what proved to be quite difficult times.  While other consultants were bemoaning poor market conditions, Alan was on the phone looking for new clients.
Alan had one disturbing habit when in front of clients and I was struggling to figure out a way I could address this with him.  Alan is a very intelligent man and is capable of arriving at a solution to commercial problems faster than the majority of our clients and colleagues.  His problem was that he let them know this by his actions.  He would wave his pen at them while they were speaking.  He did this because he had already arrived at a conclusion where most of our clients were still articulating their thoughts.  I could see that this was not only concerning me, it was really annoying our prospects and clients.
When we hired any new employees, we put them through a four hour (plus) psychological profile.  The company had a policy of not hiring anyone who did not meet quite demanding levels across the tests that formed this profile.  Incidentally, this did not mean that we were a company with an abundance of employees who had a lot of common sense!  Far from it.
I had a brainwave.  I will use the Toastmasters International formula for evaluation.  It is important to realise that Toastmasters evaluations are to help – NEVER to criticise.
I took Alan into a meeting room with a white board and began our meeting using the principles of evaluation which are to:
Commend, recommend and then finish with more commendations.
I commenced our meeting by genuinely complementing Alan on the level of commitment and supporting activity he was demonstrating – it really was excellent.
I then recapped the process he went through to join the company.  I used a standard bell curve (next page) to demonstrate what might be a fair representation of the population and the spread of IQ.  I don't want to get into arguments with people about the validity or accuracy of what I was doing in this meeting; I was simply making a point and in this exercise, I wish to demonstrate the power of effective evaluation and its potential in the workplace.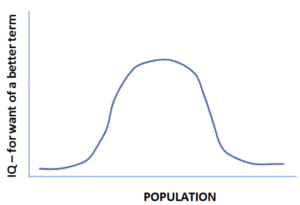 I then drew in the possible location of where most of our clients, senior managers, might fit in the bell curve.  The red lines below indicate my opinion of where we would like to think the lower and upper lines fit for senior managers.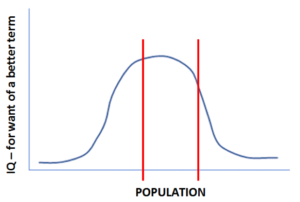 By reaffirming to Alan that he had passed a rigorous psychological test and had been employed by the company, I inferred that this should place him to the right of most senior managers.  Again, I don't want to get into arguments about the validity of this.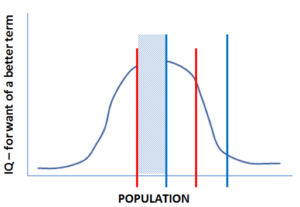 I pointed out to Alan that IF my arguments were correct, he had a better profile (between the blue lines) than approximately 50% of the clients he was going to present to.  This led me to identifying how he could be expected to arrive at conclusions faster than many of the people he was trying to generate business from.  I explained that he was showing this as impatience when he waved his pen backwards and forwards in front of them while they were still talking.
I suggested that a man of his intelligence and experience could easily use questions to help guide the client to the end point that Alan had already got to.
I then again complemented him on the effort and quality of his work quoting examples to demonstrate my sincerity.  We then concluded the meeting.
Alan said to me repeatedly how much he valued that meeting.  We both laughed many times after client meetings where had picked up his pen to make a point and promptly put it down again!
This meeting was classic Commend – Recommend – Commend; the Toastmasters International formula for effective evaluations.  I have used it countless times with my (now adult) sons and in many other arenas.  I believe that having delivered and benefited from receiving hundreds of evaluations, I was able to employ this skill to the long term benefit of Alan, our employer and our clients.  If I have gained only the skill of evaluation from my years as a member of Toastmasters International, my membership will have been worth it many times over.
John Colebatch